TPL REIT Fund I receives its first PKR 2 Billion subscription from National Bank of Pakistan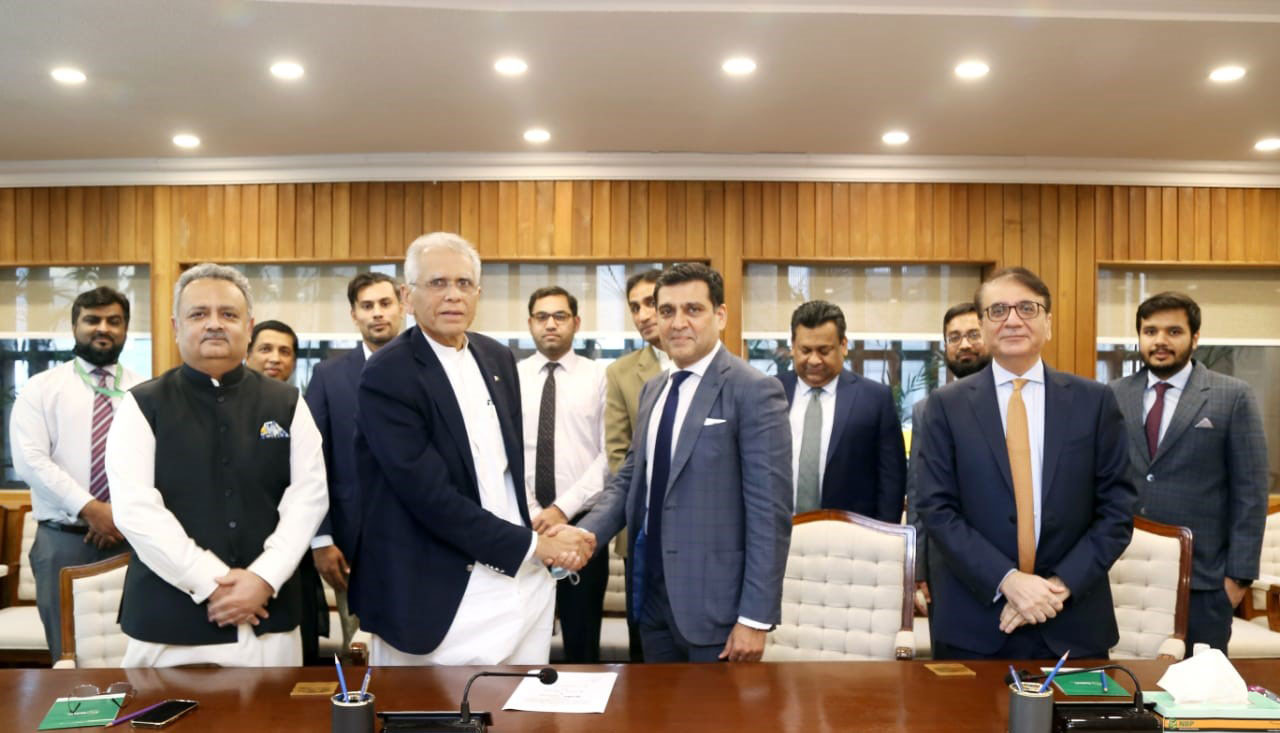 Karachi: 31st December 2021 – TPL REIT Management Company (TPL RMC) manager of TPL REIT Fund I, which is the first hybrid REIT Scheme with a target size of PKR 80 billion, launched the fund with an initial fund size of PKR 18 billion in the first round of closing. The fund has received its first subscription by the National Bank of Pakistan (NBP) of PKR. 2 billion.
TPL REIT Fund I aims to acquire and develop real estate assets to maximize returns for unitholders through dividend distributions and growth in asset value. Targeting financial closure in January 2022, the fund aims to start the acquisition and development of properties from February 2022. TPL Properties will be the strategic investor and developer in the fund.
During the ceremony, NBP was led by Mr. Arif Usmani (President & CEO, NBP) and Mr. Rehmat Ali Hasnie (Group Chief CIBG) along with other representatives of the Bank. While, Mr. Ali Jameel and Mr. Ali Asgher, were accompanied by senior management officials from TPL Corp & TPL RMC.
Mr. Ali Asgher – Chief Executive Officer, TPL RMC said "With this first subscription from the National Bank, we have embarked on a journey to institutionalize real estate investment in the country and pave the way where a retail investor will also partake yield upon its listing. Further, this REIT Scheme is destined to contribute value in the overall ecosystem of Real Estate development by meeting ESG criteria and attaining SDGs."
Ms. Racha Alkhawaja – Director, TPL RMC said, "Very proud of the TPL RMC team to have structured the largest and first development impact fund in Pakistan. This is a remarkable milestone for the country in general and the Real Estate sector in particular. Bringing in international expertise and putting Pakistan on the map of the REIT world will allow a true springboard for the sector that TPL RMC has successfully pioneered."
NBP is one of the oldest and largest commercial banks in Pakistan. Over the years, the bank has redefined its role into a modern growth-oriented commercial bank by expanding its network across continents and by capturing prime market shares in the debt-equity market, corporate investment banking, retail and consumer banking, agricultural financing, treasury services and housing & construction sectors.
Mr. Arif Usmani on behalf of NBP congratulated the entire management of TPL RMC on offering, through its Fund, the benefits of commercial and residential real estate ownership to financial institutions and general public alike, along with the advantages of offering a tradable instrument enabling to broaden of the secondary market landscape in the country.