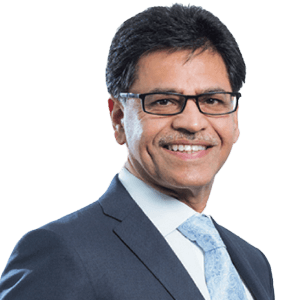 Mr. Malik's corporate and business experience spans over 30 years across three continents. A specialist in strategy, corporate business leadership, and board governance, his professional experience includes managing and leading businesses in the petrochemicals, consumer, and life sciences industries. Mr. Malik is a fellow of the Institute of Chartered Accountants in England and Wales and is also an Alumnus of the Harvard Business School and INSEAD.
Mr. Malik joined Fauji Foundation as Managing Director and Chief Executive Officer on 9th April 2020. Fauji Foundation is one of the largest conglomerates in Pakistan having investments in 24 companies across multiple diverse sectors. Earlier, his career with The ICI Plc Group based in the UK spanned over 27 years, and then later with Akzo Nobel N.V. based in The Netherlands. For around 10 years, Mr. Malik served as the Chief Executive Officer of ICI Pakistan Limited and also the Chief Executive Officer and Chairman of Lotte Pakistan Limited (formerly Pakistan PTA Limited). During his career with ICI and AkzoNobel, Mr. Malik worked in Europe and America in the Corporate Finance and Strategy Departments.
Presently, Mr. Malik is serving as Chairman on the Boards of various Fauji Group Companies including Mari Petroleum Company Limited, Fauji Fertilizer Company Limited, FFC Energy Limited, Fauji Fresh n Freeze Limited, Fauji Cement Company Limited, Askari Cement Limited, Askari Bank Limited, Fauji Akbar Portia Marine Terminal Limited, Fauji Trans Terminal Limited, Fauji Oil Terminal, and Distribution Company Limited, Fauji Infraavest Foods Limited, Foundation Wind Energy-I & II Limited, Foundation Power Company Dahrki Limited, Fauji Kabir Wala Power Company Limited, Fauji Fertilizer Bin Qasim Limited, FFBL Power Company Limited, Foundation Solar Energy (Private) Limited and Daharki Power Holdings Limited
Mr. Malik is also Chairman of Pakistan Oxygen Limited (formerly Linde Pakistan, a subsidiary of Linde AG) acquired by Adira Capital Holdings (Private) that he co-founded. Earlier, Mr. Malik also served on the following boards:
PPL – Chairman (Non-Executive & Independent)
Engro Corporation Limited – Director (Non-Executive & Independent)
Standard Chartered Bank Pakistan Limited – Director (Non-Executive & Independent)
Engro Polymer and Chemicals Limited – Director (Non-Executive & Independent)
TPL Insurance Limited – Director (Non-Executive)
Mr. Malik has been playing an instrumental role in the development of Pakistan's Regulatory System as well as in the advocacy to undertake economic reforms. Few of his other engagements have been:
Director – State Bank of Pakistan
President – Overseas Chamber of Commerce & Industry (OICCI)
President – Management Association of Pakistan (MAP)
Director – Pakistan Business Council (PBC)
Mr. Malik was a member of the visiting faculty of Pakistan Institute of Corporate Governance, a Former Member of the Board of Governors of Lahore University of Management Science (LUMS), and a Former Member of the Board of Indus Valley School of Arts.
Mr. Malik participates actively in social and philanthropic activities through I – Care Foundation, as a Trustee, Mr. Malik contributes to improving the quality of life of the underprivileged by enhancing the level of philanthropic support.
A trustee of Duke of Edinburgh Trust Pakistan, Mr. Malik was awarded the Prince of Wales Medal as a Trustee of the Prince of Wales Pakistan Recovery for the Flood Victims in 2010.