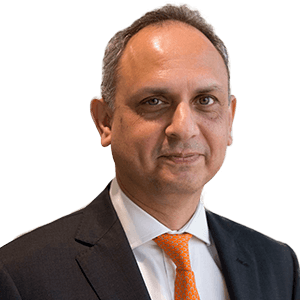 Mr. Ansari is the Chairman of Alfalah CLSA Securities, a joint venture between him, Bank Alfalah, and CITIC-CLSA. Mr. Ansari is the Chairman of X-Co Partners and its subsidiary X-Petroleum.
Before this, Mr. Ansari was the President and CEO of Engro Corporation from 2012-15 and was concurrently Chairman of all its subsidiaries. During Mr. Ansari's tenure, Engro posted a turnaround and gained on all fronts. Revenues grew from Rs.125 billion to a record Rs.176 billion, and the share price rose a remarkable 300%. Mr. Ansari spearheaded a series of transformational initiatives for the organization, including LNG & Thar projects. During his tenure, the organization also won numerous local and international awards for business Inclusiveness, Corporate Governance, Sustainability & CSR.
Mr. Ansari started his career as an Investment Manager at Bank of America in London, and then worked as CEO Pakistan and later as COO Emerging Europe for Credit Lyonnais Securities Asia (CLSA). Following this, Mr. Ansari was CEO of AKD Securities and was instrumental in launching Online Trading, Venture Capital, and Private Equity in Pakistan. In 2006 Mr. Ansari partnered with an Oil & Gas company to form Pakistan's first independent drilling company Dewan Drilling which Mr. Ansari led as its CEO before joining Engro.
Apart from Engro subsidiaries, Mr. Ansari has chaired the National Clearing Company of Pakistan and was also on the Boards of the Karachi Stock Exchange, Dawood Hercules Corporation Limited, Hubco, Lucky Cement, Pakistan Refinery Limited, Kashf Foundation, and Al Meezan Investment Management amongst others. Mr. Ansari is the Chairman of the Advisory Board of IBA Centre for Entrepreneurship Development. Mr. Ansari has also chaired several SECP committees and currently serves on the SECP's Capital Markets Advisory Group. Mr. Ansari is a graduate of Business Administration with a specialization in Finance & Investments.