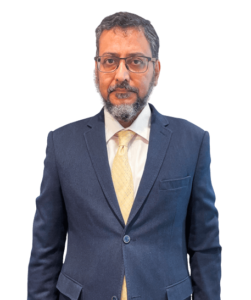 Hashim Sadiq Ali
Chief Internal Audit
Mr. Sadiq brings over three decades of working experience with 14 years of association in the insurance industry of Pakistan. Mr. Sadiq has years of association with TPL Group, whereby he served TPL Life Insurance as CFO and TPL Trakker Limited as Head of Internal Audit for over a decade. At TPL Life Insurance as an Operation Head, he looked after Underwriting, Claims, Customer Services, and Agency Operation. He previously also headed the Taxation department at TPL Corp Limited.
He started his career with A.F. Fergusons (Price Waterhouse Coopers - Pakistan) in 1990 and worked with the Audit and Advisory section at a different level, including Senior Manager Audit. Subsequently, in 2006, he joined American Life Insurance Limited as CFO with the additional responsibility of Compliance officer and worked through 2014.
Mr. Sadiq has also represented Insurance Companies at various forums by being a member of many organizations, including the American Business Council and the Insurance Association of Pakistan (IAP). He also got elected as Chairman Life Committee at IAP and remained a member of the IAP Taxation Committee.