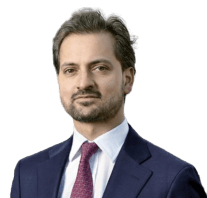 Asad has extensive experience in private equity investing and corporate finance. Asad is currently a Partner at Affinity Partners, the global growth equity fund. Prior to Affinity, Asad was a Partner at Apis, the growth equity fund focused on financial services, fintech and adjacent technology sub-sectors. Asad previously also headed the London office for Wolfensohn Fund Management, the private equity fund founded by James Wolfensohn (former President of the World Bank). Throughout his private equity career, Asad has been actively involved in all aspects of the investment process including investment origination, transaction execution, value creation, portfolio management and exits. Asad has led firms' investment teams and participated in Management Committees and Investment Committees.
Asad started his career at Lazard where he worked on over ten M&A transactions with an aggregate value of over $14 billion.
Asad has served on the Board of Directors of several investee companies, and he has been a speaker on issues of financial technology and financial inclusion, at several industry events including the Citi Digital Money Symposium, SIBOS (Innotribe), the Global Money Transfer Summit, the Financial Services Forum, and the SME Finance Forum.
Asad holds an MBA from Harvard Business School and a BA in Economics from Georgetown University.