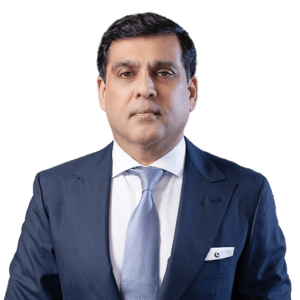 Mr. Jameel has founded Pakistan's leading technology driven conglomerates, TPL Corp and TRG Limited, combined market cap US 400 mn.
Mr. Jameel is currently the CEO of TPL Corp Ltd., which was founded in 2000, and has diversified investments in Asset Tracking, Digital Mapping, Life Insurance, General Insurance, Fintech, Information Technology, and Property Development.
Mr. Jameel is the pioneer of real estate developments in the country and is the founder & CEO of Pakistan's leading sustainable developer, TPL Properties.
Mr. Jameel has transformed TPL from a hardware-focused business to an IoT culture organization by introducing new technologies, combining the telematics from tracker devices to remodel insurance premiums, scaling up vehicle tracking business to build Maps, remodeling of the insurance business in the country, mass-market Fintech strategy and data mining within thousands of consumer touchpoints gathered via 7 businesses of the group. Today TPL stands out as one of the most innovative, technology-savvy, and forward-thinking groups in Pakistan with a clear focus on data and machine learning.
Currently, four companies of TPL Corp are listed on Pakistan Stock Exchange (PSX). Mr. Jameel has also recently set up a REIT Management Company in Pakistan, and he is looking to set up the largest property fund for Pakistan based out of Abu Dhabi. Mr. Jameel is also the Founding Sponsor and Director of TRG Pakistan Ltd., which consists of Afiniti and is also listed on the Pakistan Stock Exchange (PSX). Formerly, Mr. Jameel was the CEO of Jahangir Siddiqui Investment Bank.
Mr. Jameel has also held several advisory posts in the Board of Investment, Economic Advisory Council, Pakistan's information technology and telecommunication sectors, including appointments on the Task Force on Telecom Deregulation, the Fiscal Incentive Group of the IT Commission, and the Task Force on Venture Capital. Currently, Mr. Jameel is also an Advisory Council Member of the Ministry of Maritime Affairs, Board Member of Port Qasim Authority, and the State Bank of Pakistan.
Mr. Jameel received his B.Sc. degree in Economics from the London School of Economics and is also a Fellow Member of the Institute of Chartered Accountants in England & Wales and qualified in 1994 at KPMG Peat Marwick in London. In addition, Mr. Jameel is a Member of YPO Pakistan, Pakistan Business Council, and OICCI.
Mr. Jameel also serves on the Advisory Board of the London School of Economics, South Asia Centre in London, and the Patients' Aid Foundation in Karachi.