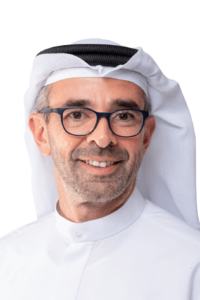 Abdul Wahab Al Halabi
Independent Director
Mr. Al Halabi is a Partner at Decker & Halabi, a Global Advisory Firm that strives to deliver a deliberate and precise strategy for each client through expertise, collaboration, and hard work. Mr. Al Halabi is also a chairman of Dubai DXB Entertainments (formerly Dubai Parks and Resorts PJSC) and AbFab Limited. Additionally, Mr. Al Halabi is also serving as a board member at Union properties, which has firmly established itself as a leader in the UAE property development market; Union Arab Bank PJSC, a listed bank in Dubai Financial Market; and Houlihan Lokey MEA, a global investment bank specializing in M&A and special situations.
Mr. Al Halabi has significant experience in the real estate sector having managed assets north of AED 34 billion.
In the past, Mr. Al Halabi has served on several boards and senior management positions, including Vice Chairman at Planet Pharmacy LLC, Member of the oversight committee at Equitativa Limited, and also remained a board member of Global Investment House PJSC, Rove Hotels LLC, Dubai Hills LLC Arthrogen B.V.
With over 23 years of experience in executive management, Mr. Al-Halabi is involved in the REIT industry in the region. Previously, he was the Group Chief Investment Officer of Meraas Holding, Partner at KPMG, Chief Executive Officer of Dubai Properties, amongst others. Mr. Al Halabi also held senior positions within the Dubai Holding Group for many years.
Mr. Al Halabi holds a BSc Economics from London School of Economics and an Executive MBA from Ecole Nationale des Ponts et Chaussées. Mr. Al Halabi is a Fellow of the Institute of Chartered Accountants in England and Wales and is a member of the UK-based Securities Institute.